Other bridges and culverts
Bridge 93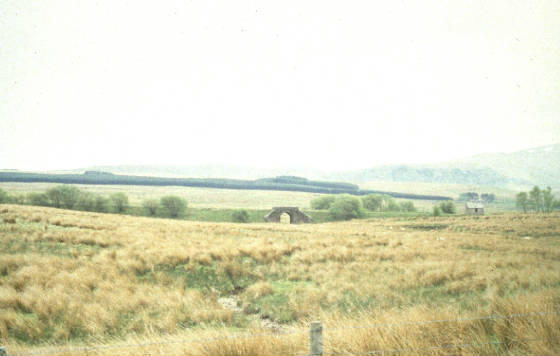 A small arched culvert / cattle creep between Gillsrow and Highgate
Tunnels
The line has only two tunnels:
"Big Tunnel" (98 yards long and slightly curved) just west of Keswick where the A66 Greta Viaduct spans the valley.
"Little Tunnel" in Brundholme Woods, about half way to Threlkeld. This is open to walkers on the Railway Path.
Little Tunnel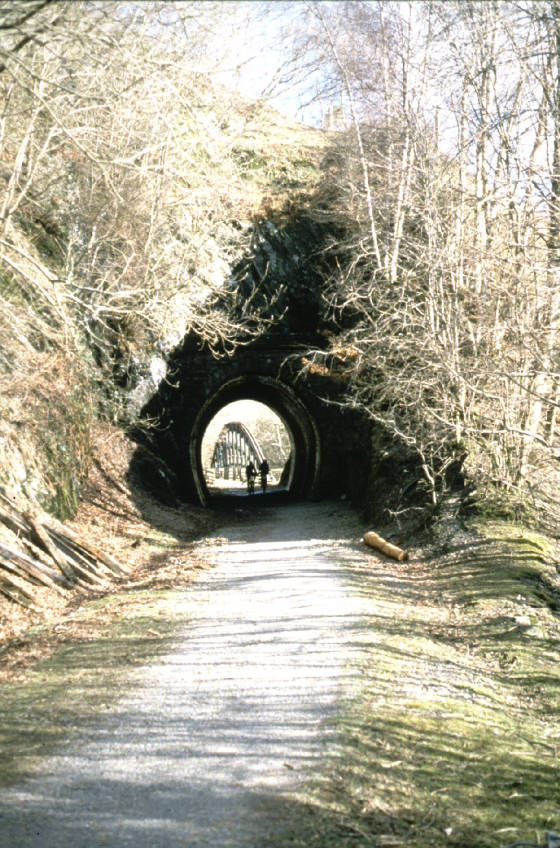 Winter view through Little Tunnel eastwards to Bridge 74
This view of Little Tunnel appears in the opening credits of the film "Six Five Special".
Current condition and maintenance
All structures which join, carry or cross public rights of way are maintained by Local Authorities.
The two main viaducts and a few other structures are still the responsibilty of the Railway Industry.
The bridges on the Path from Keswick to Threlkeld are maintained by the Lake District National Park Authority. Their apprenticeship schemes now include training in bridge maintenance.
Other structures ae the responsibility of individual landowners.
A few have been removed where they restricted the height of vehicles on busy roads, or are no longer required.
All significant structures required remain in place.
A few new structures will be required, but this is little more than normal developments changes would have taken place over the ars as land use changed and roads developed.
"Infilling" bridges
At some stage all bridges need major repairs to ensure their strength to carry future traffic. Sometimes a decision is made to "infill" a bridge rather than carry out detailed repairs.
"Infilling" means building a bank of stone or earth under the bridge and casting a concrete "bed" under the bride deck to support it.
That process reduces future maintenance needs, but completely blocks the space under the bridge.
If a bridge over a railway trackbed has been "infilled", when the railway is re-opened, all the concrete and earth or stone has to be dug out and the bridge deck replaced. That will probably cost much more than the repairs required when the decision to "infill" was made.
The Lake District National Park Authority rejected an application to "infill" a ridge early in 2013, having told the applicant that such action would contravene policies to protect the route for future sustainable transport use.
August 2014 - Government Planning Inspector refuses an appeal to infill a bridge at Highgate. Click here to read the news article in the Cumberland and Westmorland Herald
.
.