Keswick to Penrith Railway Re-opening
New Alignments


In general, the aim of the Project is to reinstate the Railway on, or as close as possible to, its original alignment. This minimises cost, because most of the earthworks and structures are still in place, and ensures that the new Railway has the minimum number of speed restictions - the original route was laid out with large radius curves which would allow good speeds with modern trains. Between Penrith and Keswick there were no level crossings on public roads - a safety feature well ahead of its time in the 1860s

In only a very few places have major developments taken place on the line - the most significant being Penruddock station which has been converted into a housing estate.
At Beckses (west of Penruddock) some bridges have been removed and the ground landscaped back to the form it had before the Railway was built. The A66 also cuts through the alignment at almost exactly the level of the original track.
At Threlkeld the eastern approach to the viaduct carrying the A66 across the river valley stands on the alignment of the trackbed.

Below are scketches from the "pre-feasibility study" conducted on behalf of the Local Authorities in 1996. These confirm the ideas put forward by Cedric Martindale.

The work done by Corus Rail Infrastructure Services (CRIS) more recently has developed these ideas.

These sketches demonstrate that features which many people see as "obstacles" are not major challenges at all and can be overcome by straightforward new construction.


Penruddock Station

Houses have been built on the original site.
A simple "by-pass" to the south of then station site gives an easy alignment through open land.
Beckses and the A66

By re-building the Railway at a higher level, it is possible to cross over the A66 with a bridge.
A level crossing at this location would be unacceptable for safety and traffic volume reasons.

The trackbed west of Beckses rises towards Troutbeck, so the extra elevation does not create any serious issues.

North of the A66 is a hill which the Railway used to cut through.
A higher alignment would meet the top of this hill then drop gently towards Penruddock.
Threlkeld A66

The eastern approach of the bridge across the river valley stands on the original alignment of the Railway.

In the early stages of the project it was felt to be easier to construct a deviation under the road bridge. This did, however, raise concerns about construction on a flood plain.

As the project progressed, Corus had experience of reopening railways through such embankments (on the Tyne and Wear Metro extension) and advised that reconstruction on the original alignment would probably be equally economic.
Threlkeld Greta Gorge A66 bridge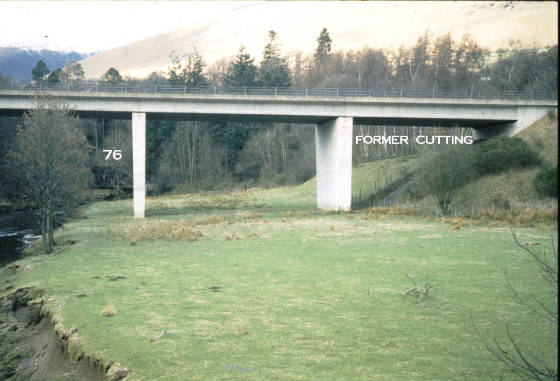 Girder Bridge No 76 is in the left background